I warmly welcome,

Today I come to you with, in my opinion, quite an interesting topic, namely?
Wall fireplace: What is the latest trend among electric fireplaces?

Despite my absence, the trends in electric fireplaces were moving forward.
There are a lot of new models at the manufacturer Aflamo! New floor standing fireplaces, simple classic and beautiful wall fireplaces.
In today's article, I will focus on wall-mounted fireplaces that simply knocked me off my feet.
The manufacturer Aflamo has launched a wall fireplace called MAJESTIC on our market. These are five wall mounted electric fireplaces that differ only in dimensions: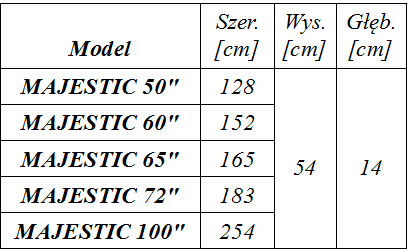 Looking at the dimensions, these wall fireplaces are not small, and the width of 254 cm is a total shock. I have never seen such a huge fireplace with my eyes and I was sure that 120 cm is a large enough size.
Can you imagine having such a huge wall fireplace?: D
The manufacturer not only tried to beat the competition with the size, but also surprised me for the second time with the replaceable center of the fireplace.
In these models of a wall fireplace, it is possible to remove the glass and change the interior of the fireplace. In the purchased set, we get logs (pieces of wood), crystals and stones. The idea of a removable interior impressed me a lot, because I like changes and I just get bored of many things. This wall fireplace for me is perfect. One day I will put stones, the next crystals that reflect the light of the flame in an amazing way, and on another day I will put logs.
Another advantage is that it can be built over. Other manufacturers' fireplaces are wall-mounted only. This means that they must have access to air as well as any ventilation grids it contains. In the MAJESTIC Aflamo model, it boasts that it can be easily built-in and nothing should happen. In addition, it has a function that makes sure that the fireplace does not overheat.
These fireplaces do not have many additional functions, but their size makes up for everything. They have three flame colors, a timer with time regulation, temperature control, a touch panel and, of course, a remote control. Even for demanding people it will be perfect.
The power consumption of these fireplaces, with the effect of the flame itself, is different for each one. Larger fireplace sizes simply consume more power:
Majestic 50 "- 15W
Majestic 60 "- 15W
Majestic 65 "- 15W
Majestic 72 "- 20W
Majestic 100 "- 20 watts
With the heating effect, all of them have a power consumption of 750/1500 W.
What do you think about these fireplaces? Are you impressed by such a large size of fireplaces? Do you think that Aflamo will win its competition in wall fireplaces, e.g. those described in this article?


You can find more about Majestic fireplaces here

Majestic fireplaces